A Special Offer!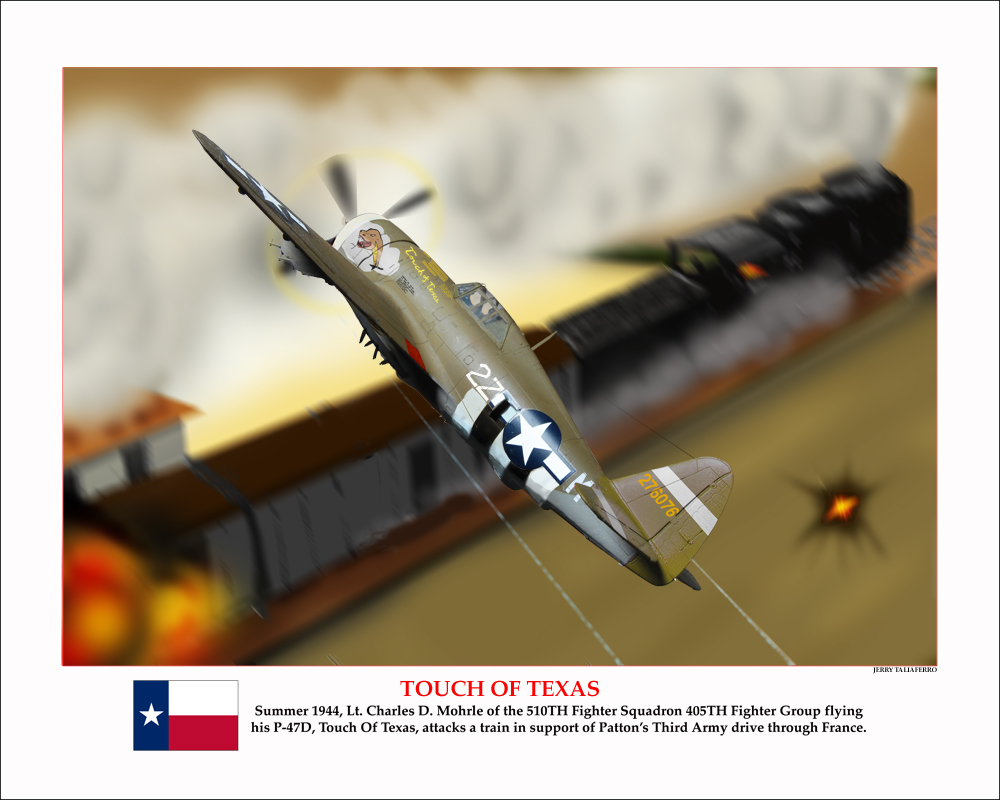 Touch Of Texas
This large 24 x 30 in. large special edition print depicts the P-47D Razorback "Touch Of Texas" flowed by 1LT Charles D. Mohrle, 510th Fighter Squadron 405th Fighter Group, attacking a train in France during the Summer of 1944. This editions is limited to 1000 prints.
Charles D. Mohrle was born in Oklahoma City, Ok and raised in Galveston, TX. He attended the University Of Texas.
RED TAILED DEFENDERS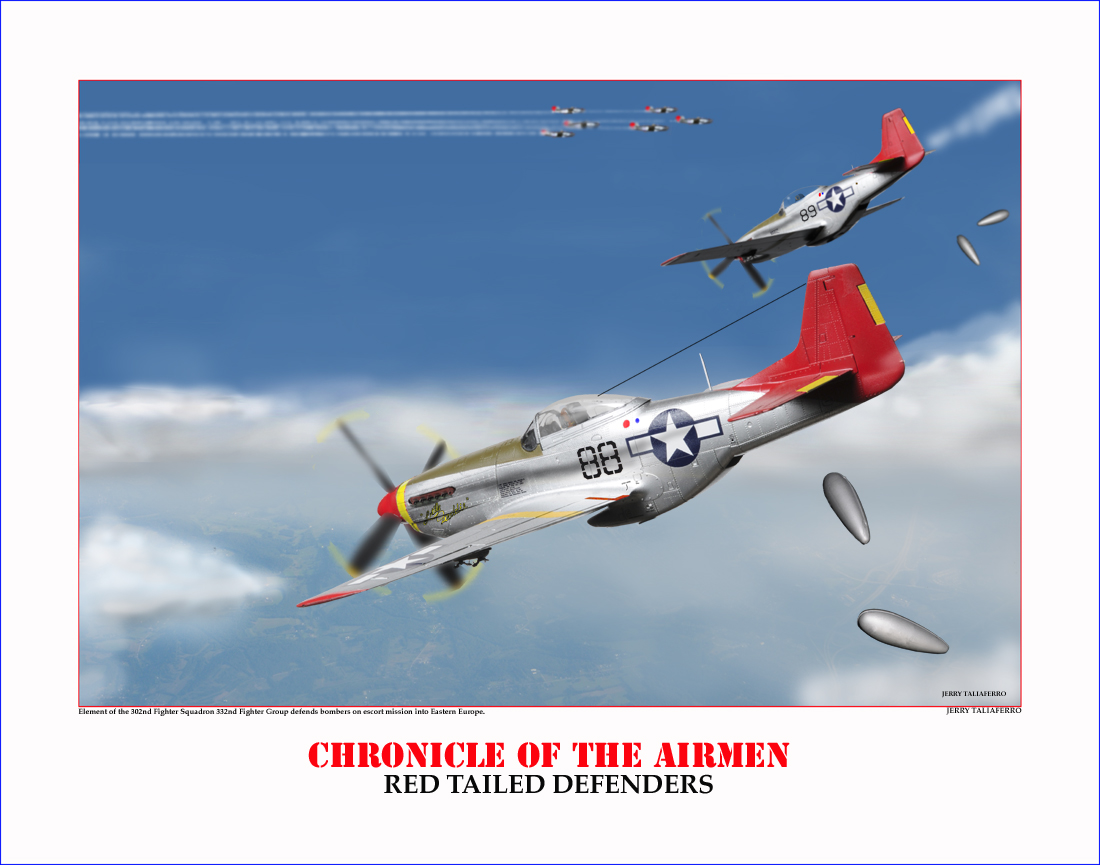 We are please and proud to present one of our newest illustration: RED TAILED DEFENDERS. This piece of artwork is one of the latest illustrations from a series called Chronicle Of The Airmen done for the traveling exhibition THE TEST, THE TUSKEGEE PROJECT which tells the story of the Tuskegee Aviators. The meticulously researched and carefully crafted illustrations dramatically bring history to life.
The piece depicts elements of the 302nd Fighter Squadron, 332nd Fighter Group (Tuskegee Project) defending bombers on an escort mission during World War Two.
The opened edition prints on Epson Premium Semi-matte Photo Paper available in sheet sizes 13x19 in., 17x22 in., and 24x30 in., retailing for $50.00, $100.00 and $150.00 respectively. Custom sizes are also available.
To order the RED TAILED DEFENDERS via Paypal click on the button below
AVIATION ART FROM
THE TEST
AN EXHIBITION ABOUT THE FIRST AFRICAN-AMERICAN AVIATORS IN THE U.S. MILITARY
ARTWORK FROM THE EXHIBITION
Work on the THE TEST continues to generate excellent aviation art. This artwork includes depiction of significant events, profile of aircraft types used by the various squadrons of the 332ND FG (including the P-40, P-39, P-47 and P-51) as well the aircraft types used by their adversaries. The prints presented are available in two sizes; 17.in x 22in. and 13in. x19in. and retail for $50.00 and $35.00 respectively. Custom size are also available upon request.
Contact us at email newtribe8@cs.com or telephone 704.372.2772 (USA).
Dealer inquiries are welcomed.
We offer two types of prints; 1) Historical Depictions and Aircraft Profiles (side views and side and top views). Historical Depictions are images based upon actual events. Every effort is made to be as historically accurate as possible. These images are meticulously researched and crafted. In many instances interviews are conducted with persons having firsthand knowledge and the final images is reviewed by subject matter experts. The image below left, April Fools Day, which depicts the downing of a FW-190D-9 by Lt. Harry Stewart in April 1945 is such an image. Using after action reports, an actual description of events by LTC(Ret.) Stewart and input from a group of subject matter experts, the depiction of the action was completed after weeks of effort. The aircraft profile, "THE FIRST RED TAILS", is based upon a detailed description by Mr. James A. Sheppard who served as a crew chief with the 301ST Fighter Squadron. Accurate depiction of events and aircraft is our number one goal.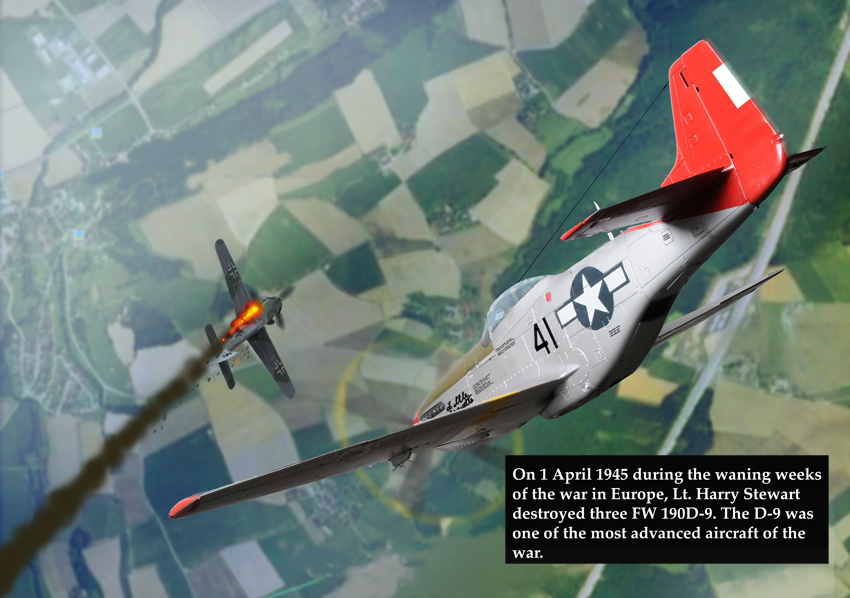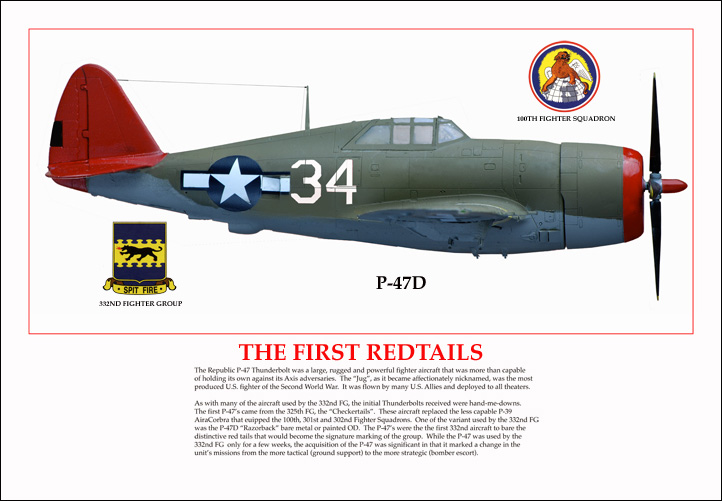 ---
HISTORICAL DEPICTIONS

AIRCRAFT PROFILES




To learn more about the 332ND Fighter Group Project Art contact us at newtribe8@cs.com or phone 704.372.2772.








*HOME PAGE *CONTACT US



Copyright © 2010 Jerry Taliaferro